Missionary Support
Matt Wasmund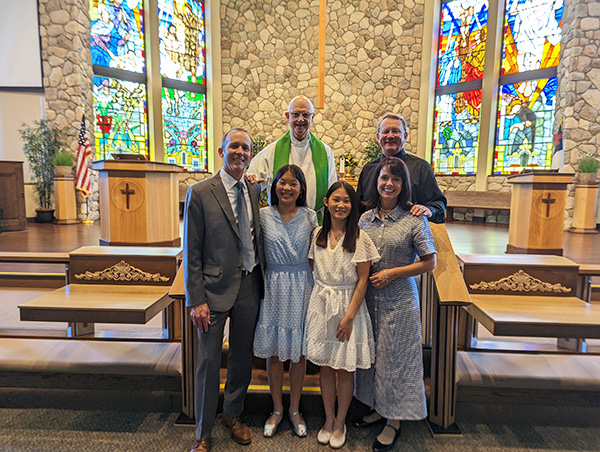 Matt and Dee Dee Wasmund, along with their daughters, Lily and Olivia, live in Seoul, South Korea, where Matt serves as the Strategic Volunteer Coordinator for East Asia for The Lutheran Church—Missouri Synod (LCMS). In this role, Matt connects with the individuals serving as GEO (globally engaged in outreach) missionaries in South Korea, Taiwan, Hong Kong, and Thailand in order to support ministries that touch the lives of hundreds of students of all ages. He engages with church and school leaders at these various sites, seeking effective ways to serve together for the sake of the Gospel.
As a ministry team, the Wasmunds also facilitate short-term mission opportunities which enhance existing ministries in the Asia region. They happily participate in the church life of their overseas congregation, the International Lutheran Church in Seoul.
The Wasmunds consider both Faith Lutheran Church in Eustis, Fla., and Christ Our Savior Lutheran Church in Loudon, Tenn., as their home congregations.
Please lift up the Wasmund family in prayer as they serve abroad in East Asia. They share, "We are very grateful for the ministry partners who support us in many ways, not the least including faithful prayers lifted up on our behalf for protection, wisdom, and continued guidance. We sincerely thank you." Let us give thanks the Wasmunds are serving in this part of the world.
sandra Rhein
Deaconess Sandra Rhein serves The Lutheran Church—Missouri Synod (LCMS) in Asia, based in Taiwan. In her role as Sacred Music Educator, she responds to partner church needs and requests for Lutheran hymnals and hymnody, guides them in developing musical and liturgical resources, and helps build their churches in their ability to share the Word of God in local languages. In this role, she seeks to foster the appreciation for church music, worship, and hymnody among the varied people of Asia. Her work promotes the furthering of the Gospel proclamation using the highest forms of art available to the church.
Pray for Sandra as she serves in Asia. Ask God to give her peace and strength as she continues to understand the culture and traditions and strives to acquire a stronger grasp of the language. Pray that God would open doors for the Gospel in Asia and that He would empower, through the Holy Spirit, those who hear it to believe and be saved. Ask God to break down barriers to the development of a churchly music culture in Asia where music serves the Word of God, and Christ and His cross are at the center of it. Let us give thanks to God that Sandra is serving His children in this part of the world.